Database administrators and other professionals specializing in server performance will likely benefit from future Microsoft certification courses.
Recently, Microsoft announced the release of a hardware/software solution that it asserts will give a considerable boost to data center performance.
Playing with new toys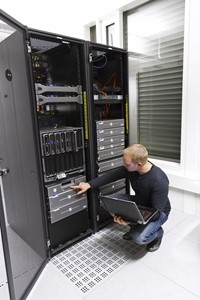 According to ZDNet contributor and Microsoft enthusiast Mary Jo Foley, researchers at the Redmond, Washington-based company were experimenting with field-programmable gate array processors in an effort to improve server function.
The team collaborated with Microsoft's Bing department to trial "Catapult," a malleable solution running on more than 1,600 of the corporation's data center machines operating on Intel Xeon processors and Altera FPGA chips. The aim of the endeavor was to determine whether servers running FPGA technology could:
Perform faster
Producer higher-quality search results
Operate with enhanced capabilities at an affordable price
How it works 
InformationWeek reported that Microsoft unveiled Catapult on June 16 in Minneapolis, Minnesota, at the 41st International Symposium on Computer Architecture. Essentially, the program takes queries from Bing and assigns a portion of the tasks to FPGAs, which are customized to handle incredibly heavy computational workloads.
The result? The implementation of FPGAs have made Bing twice as fast and increased total per-server cost savings by about 30 percent. This significant performance boost is sure to be appreciated by organizations looking to improve server efficiency.
Catapult: A necessity 
It's very well possible that a future in which Microsoft's latest data center offering is regarded as a critical application by senior IT professionals is on its way. Many of them will likely enroll their staff in Microsoft training programs to equip them with the knowledge necessary to employ the solution for all that it's worth.
Why would such enthusiasm occur? InformationWeek noted that Moore's Law – the idea that the average number of transistors within a processor doubles every two years – is starting to be inapplicable. The units are becoming so small that engineers may soon attempt to operate on an atomic level, which would require quantum computers. Because quantum computers have yet to be developed, software companies have to figure out ways to improve hardware speed and efficiency without physical implementations.
"We are addressing two problems," said Microsoft researcher Doug Berger, as quoted by InformationWeek. "First, how do we keep accelerating services and reducing costs in the cloud as the performance gains from CPUs continue to flatten? Second, we wanted to enable Bing to run computation at a scale that was not possible in software alone, for much better results at lower cost."
In light of the aforementioned issues, it's critical that IT professionals take advantage of Catapult once it's available for popular usage.