In some instances, outsourcing to an IT services firm may be the best option available, but this isn't always the case.
Overall, it's best to have a knowledgeable in-house staff of professionals who are knowledgeable of network management, database administration, cybersecurity and big data warehousing. It doesn't hurt to have a few hardware technicians capable of fixing or upgrading equipment if need be (unless servers are hosted in a cloud environment).
SQL training, Cisco certifications and a select collection of other programs will provide IT professionals working in the health care industry the wherewithal to satisfy public regulations, ensure systems remain protected against pervasive cybersecurity threats, develop and implement fault-tolerant disaster recovery strategies and apply broad performance enhancements as needed.
Don't train for everything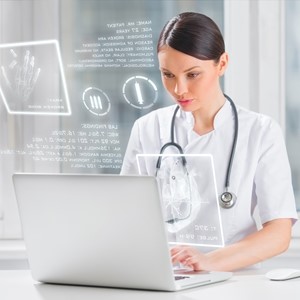 As was mentioned above, it doesn't make sense for institutions to spend the capital needed to train professionals on specific facets of IT. Steven Heck, a contributor to InformationWeek, noted that software development is one particular area that should be outsourced to a managed IT services provider.
Why? Learning a programming language takes an extensive amount of time, and a three-week course isn't going to cover everything in-house IT departments need to know. Health care organizations need specialists who already possess skill sets in C , HTML, Java and so on to ensure existing solutions can be customized in a timely manner.
Why security, systems administration training is necessary 
Don't outsource these responsibilities. An IT services company may inform prospects that its staff has knowledge of cybersecurity protocols and systems management that in-house teams simply could never handle. It's tempting to sign a contract, but then the client in question may have to pay more than if it's willing to receive "additional" provisions that, in a long-term sense, is necessary.
Ask any U.S. medical organization how much its systems and security protocols have needed to adapt over the past two years and one can see why having in-house cybersecurity specialists is a necessity. In a separate InformationWeek article, contributor Mansur Hasib emphasized the importance of regarding network and information protection as an integral part of an overall IT strategy.
As every medical organization has its own unique IT infrastructure, it's advantageous for their own in-house IT departments to implement cybersecurity settings throughout those architectures. From a training perspective, institutions should look for programs that offer advice in the following categories:
Network protocols and defenses
White-hat hacking (this is a fantastic way to find vulnerabilities)
Database encryption and access processes
Intrusion notification and protection technology
End-user best practices
SQL training's advantage 
For care providers using SQL Server 2012 or 2014, instructing professionals on how to take advantage of the database engine's data compression function is quite valuable. Between smart devices creating more patient-applicable data and a general desire to reduce hardware usage, fitting as much information into databases as possible has become a priority.

Louis Li, a contributor to SQL Server Pro, noted SQL Server Management Studio provides DBAs with the Data Compression Wizard, which lets professionals determine which sets they would like to compress, how much space will be saved in environments and a list of other features.