There was a lot to soak in for those who attended the Windows 10 Consumer Preview on Jan. 21st.
Microsoft's flagship operating system will be equipped with a wide list of new features, some of which are still being perfected to improve the user experience.
Preliminary considerations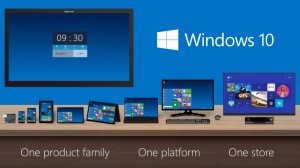 Organizations won't have to worry about allocating capital to purchase Windows 10 if they choose to install the OS within the first year of its release. According to ITPro, Windows 10 will be a free upgrade for Windows 7 and Windows 8/8.1 users for 12 months after the solution is distributed for public consumption. Although a definitive release date was not stated, the Technical Preview will end April 15 of this year.
From an administrative standpoint, Windows-as-a-Service offers a number of benefits. Although the source didn't say much about the provision, it did note that developers will be able to "work across all Windows devices, as well as improving security." This could be a huge asset to enterprises with employees who like to work with smartphones and tablets as well as PCs.
[sws_ui_box ui_theme="ui-smoothness" ui_state="ui-state-highlight" icon="ui-icon-circle-check"] Windows Training Courses for End Users and IT Professionals[/sws_ui_box]
Mobile advancement 
Microsoft's Joe Belfiore, who headed the presentation, maintained that Windows 10 for phones will behave as extensions of user PCs, as they will be equipped with Windows apps that possess the same design and workflow of their PC counterparts. PCWorld also noted that Microsoft Outlook was redesigned to be both touch- and mouse-and-keyboard-friendly, allowing users to swipe right to log emails for later recognition and swipe left to remove them.
Usability and assistance 
One component of Windows 10 that certainly turned some heads was Windows Holographic. A separate PCWorld article noted that Windows Holographic is an app that will activate 3D imaging, and it's accompanying technologies, Windows HoloLens and Holo Studio, will complete the package. While HoloLens is a headset that allows users to view and interact with 3D images, HoloStudio allows people to make their own holograms.
How is this applicable to businesses? Think of it from the perspective of an architect visiting a job site. He or she could start up Holographic and HoloStudio on a smartphone, pull up previously designed 3D blueprints of a building and then adjust them according to input from contracts. The use cases expand into other areas of engineering, as well as health care, manufacturing, research and development to name a few.
While a wide list of user features were unveiled at the Consumer Preview, back-end functionality wasn't disclosed. However, it can be reasonably assumed that Microsoft is designing Windows 10 to be efficient and lean.