Modern business heavily relies on technologies to get the job done that's why fresh IT training program should be in the works to freshen up the staff's handle on their most invaluable tools.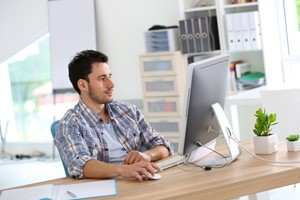 There are plenty of matters to discuss here, including app development and SQL education, but for the purposes of creating a winning package for spring, summer and fall sales performances, IT security and lean management will be the main focuses. These two frameworks of learning programs will be critical for all businesses in the coming years, as they effectively reduce risk while driving profit margins and productivity higher than would be possible in the past.
Starting with IT security training, there is simply no excuse to hold off on teaching tech personnel and all other employees the best practices of software and hardware use, as there is no greater threats to the average business today than cybercrime and downtime. Putting a bit more investment into training procedures that will reduce the rate of breach and improve the systemic resilience to disaster will go a long way in improving performances this spring.
Really, get to training
Dark Reading recently argued that there are a wealth of individuals, including IT experts, leaders and others, who do not think that security training is important or worth the time and investment it would take to get rolling in a company. This is not only a misguided belief, but one that can quickly decimate otherwise attainable operational and financial objectives, as one major event can completely hemorrhage the business for long periods of time.
What's more, some of the more trusted minds in the IT community have argued that training is paramount in the security equation, surpassing even firewalls, network monitoring tools and the like in value and importance today. After all, the vast majority of data breaches occur when an employee takes a wrong step, rather than a highly sophisticated hacking group completely defeating all of the tough protections in place within hardware and software.
According to Dark Reading, some will say that employees simply cannot be taught the best practices of IT, and this is another erroneous and somewhat strange argument leaders make against investing in training. At the end of the day, building a tight and resilient IT workflow is going to take a company to the next level of success and help it to avoid dangerous and disastrous situations, so the time to get moving on security training is now.
Make it lean
Lean management began in the manufacturing sector as a method of reducing all waste at all costs and ensuring maximum efficiency down the production line. Similar ideals have entered into other industries, and lean management for IT departments is now beginning to make headway.
After all, if a business has already worked to maximize its sales and customer retention, the best move to make by way of profit margin improvements is to lower the overhead. Lean IT can do just that, reducing the amount of wasteful expenditures or resource allocations and ensuring that all investments, processes and personnel are performing optimally every day.
By acquiring lean IT training, businesses can effectively strengthen the profitability of all assets in place, while simultaneously ensuring that objectives are at the forefront. To make waves in the warmer months, investing in fresh IT training practices can go a long way.