In a value-focused atmosphere, hospitals, mental health clinics and rehabilitation facilities need an accurate view of each patient's needs, recovery progress and current condition.
Keep it secure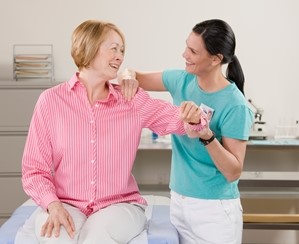 Quick access to detailed profiles aren't the only features health care organizations need from CRM programs. The solutions' security functions must comply with and even surpass standards defined by the Health Insurance Portability and Accountability Act.
For Dynamics CRM users, Microsoft training can provide them with the programming knowledge needed to reinforce the solution's already protective features. Aside from setting up complex malware defense programs and firewalls, certification enrollees will learn how to perform key administration functions that ultimately deter cybercriminals from gaining access to patient data.
Enhanced management 
Sci-Tech Today noted how the Ohio Department of Developmental Disabilities used to manage 100,000 clients on a disparately assembled system that failed to provide users with comprehensive client profiles. In order to resolve this situation, the company implemented "Imagine," a program built on Dynamics CRM's foundations.

Imagine gives 3,000 users located across 18 counties the convenience of easy information access while also allowing them to share data with one another. Documents could be edited thanks to Dynamics CRM's cloud infrastructure and insight into patient conditions could be provided during online discussions.
Dynamics CRM also expedited the health care approval process.
"We have waiting lists of people waiting to be served. Individuals wait for approval for Medicaid waiver dollars, even if all that person needs is five hours of respite or a ride every Friday," said DODD Assistant Chief Information Officer Kathy Casagrande, as quoted by the source. "Now, with the Imagine system built using Microsoft Dynamics CRM, we can see those pressing needs and solve them quickly and locally without having to send an individual through a system to get Medicaid approval."
An optimal contact feature 
Last year, the team working for Dynamics CRM Online unraveled a free add-on to North American users. Dubbed "InsideView," MSDynamicsWorld noted the program is capable of displaying in-depth information regarding customers, such as:
Who a person communicates with most on social media sites
Professional associations and past work experience
Company size, industry, affiliations, addresses and contact information
The tool is a huge favorite of sales professionals who rely on such data to help them make more targeted and personalized pitches. For health care providers, InsideView can help them assess a new patient's needs before an in-hospital visit. It's this level of preparedness that the U.S. government is looking to encourage with its prioritization of "value-based" care.
[course_table filter_keywords="Dynamics" hide_columns="2,3,4,5,6″ accordion_title="Microsoft Dynamics Training"]