In sync with the release of Windows 8, Microsoft Office 2013 has been favored by many organizations that have continuously used the suite's signature productivity applications.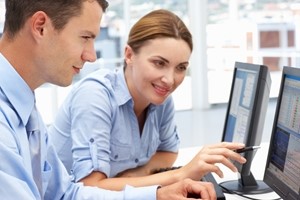 Setting up the program to run on premise requires the expertise one can obtain through a Microsoft training course. Outlook and other applications can be customized to fit the needs of health care, manufacturing, financial services and other industries. If software is consistent with a brand's character and image, a sense of uniformity permeates throughout the work environment.
Before getting into how administrators can get started with Office 2013 customization, it's important to look at the surface-level changes people will notice after installing the productivity software. Helen Bradley, a contributor to PCWorld, noted several features employees are sure to favor.
Starting up 
When opening Excel, Word, PowerPoint or any Office application, the first thing a user will notice is a new start screen. This feature provides employees and consumers alike with a wide array of templates and appearances appropriate for certain projects. For example, with Word, a user can select formats that are best suited for news stories, blogs, thesis papers, short stories, presentations, critiques and much more.

In addition, users will notice the option of integrating with Microsoft's OneDrive cloud provision. By setting up a username and password with the service, Office users can access saved work from anywhere. If a person registers a device compatible with Office (such as a smartphone or tablet), he or she can perform a variety of tasks remotely.
Speaking of integration with tablets, a select number of Office 2013 features are touch-compatible. The Read Mode in Word allows workers to scroll through documents by swiping horizontally. Other motions allow users to tap, pinch, stretch and slide for a variety of functions.
Getting the work done
Bradley also mentioned two key features – one in Word and another in Excel.
PDFs are common among professionals. W-9 forms and legal contracts alike are sent via email on a daily basis, and when revisions need to be made, the original sender must do so on his or her text editor. Word 2013 eliminates this annoyance by allowing people to edit PDF documents. Once revisions have been made, Office customers can save them as either DocX or PDF files.
People who are somewhat befuddled by the huge selection of charts at their disposal upon opening Excel will be happy knowing Microsoft has made choosing the right graph much easier. A person simply needs to highlight the data within their Excel document and click Insert > Recommend Chart to see which visualizations Excel "thinks" would best represent the information.
Ready to customize? 
A feature introduced in Office 2007, the Office Customization Tool, provides businesses and consumers alike with option of tailoring the productivity suite to cater to specific needs. Microsoft certification courses exclusively show employees how to do this. TechNet noted OCT is available for both 32-bit and 64-bit Office deployments. The source outlined how to modify Office 2013′ Setup in the following process:
To create a network installation point, administrators can launch a shared folder for the productivity solution's source files at a location that's easy for the server to access. From there, replicate all the files and folders from the Office 2013 DVD to that share.
Open the root of the network installation point and use a command line that defines where the Office 2013 sources reside and initiate the OCT.
Select the Office 2013 offering that needs to be configured and press OK.
This brings users to the OCT navigation pane, where they can select "Installation location and organization name." From there, managers can enter the default installation location coinciding with employee computers. They can also provide a relative path that includes the folder keyword.
In the Organization name file, introduce a company name for those who intend to install office with the customization file. In the navigation box, select "Additional network sources" and then choose "Add."
This brings managers to the Network server box, which allows them to insert the path of backup assets they implemented on the Network.
Also in the navigation pane are two options: "Use KMS client key" and "Enter another product key." While the latter is set as the default selection, the former enables users to enter an authorized Multiple Activation key that helps enterprises activate Office 2013 by telephone or online.
Choose the "I accept the terms" in the License Agreement box.
A details pane will appear, in which an administrator can either set the Display Level to "Basic" or "None" to install the suite without needing user interaction.
More complex customizations can be implemented after the configuration has been saved.
While the aforementioned process is quite simple, performing more complex revisions to Office 2013 requires thorough, peer-to-peer instruction. Deployment models and how employees interact with the program varies considerably, which may change as organizations grow and develop.
There's no doubt Microsoft has produced another optimal productivity suite. Office 2013 is sure to be a favorite among workers of every ilk.