Enterprise leaders considering the benefits of using Microsoft Office 365 to handle all of their productivity may find they need to give their employees a bit of a rundown of the suite's full capabilities.
While it's safe to say that most, if not all working professionals are familiar with Word, Excel and PowerPoint, they may not be acquainted with OneNote, Access or Publisher. Better yet, some of them probably don't know how to take full advantage of Word, Excel and PowerPoint, ultimately preventing them from being as productive as they can.
Entering the mobile front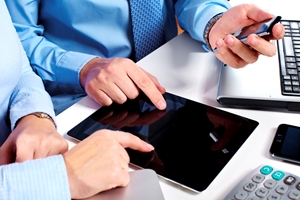 One of the reasons why Microsoft training is becoming more popular among company decision-markers is due to the rise of mobile access. Since the Redmond, Washington-based company unrolled free versions of Office 365 apps for Apple and Android devices, it's more feasible for owners of such products to take work outside of the office.
Yet, learning how to get the most out of the Office app is just the beginning. Allowing employees to use smartphones and tablets at works means internal IT departments need to be able to expand their networking capabilities. For instance, those unfamiliar with the latest bandwidth optimization techniques may have to seek instruction from firms offering education in Cisco equipment, telecommunication systems and other assets.
How iPhone users can work with Office 
Gotta Be Mobile contributor Kevin Purcell acknowledged several features of the iPhone Office application users will likely favor immensely.
As Dropbox is a popular cloud service among professionals and consumers, it's no wonder why Microsoft added support for the solution. Syncing with Dropbox isn't difficult, either. When a user installs Word, PowerPoint or Excel, he or she is brought through a series of introductory screens, one of which allows them to add a pre-existing Dropbox account.
Purcell also mentioned that people using PowerPoint for iPhone can activate a virtual laser pointer by tapping and holding the screen when a project is opened. From there presenters can use multiple pen styles and colors to highlight certain aspects of the presentation.
Of course, file sharing, formatting and the ability to finish work that was originally developed on a PC or Mac are all features that are included on the iPhone apps.
A content creator and delivery system 
While Word, Excel, PowerPoint and Outlook have been around for some time, it's been a while since Microsoft announced any new Office applications. The software developer has recognized this, and its specialists are observing the way in which people work in the modern era, as well as what professionals demand of contemporary applications.
Office 365 Senior Product Manager Mark Kashman heralded 2015's release of Office 365 Video, which Microsoft regards as a medium that allows people to easily create clips through the user interface from a desktop or mobile device. Once a video has been produced, a user can add a title and description. After that, he or she waits for the generated playback files. 
Kashman asserted the solution was developed in response to the manner in which enterprises sanction communications. Executives are delivering company-wide messages through video, and new employees are often subjected to training clips that detail their new job titles.
In addition to the ability to create videos via multiple devices, Microsoft ensured that users would be able to upload videos in various file formats. Once content is uploaded, a search function allows enterprise employees to look for specific clips based on keywords. For those who use Yammer, videos are automatically integrated with the social solution.
Overall, there's a lot people who can benefit from by taking Microsoft Office training courses, especially if they're not acclimated with mobile technology.