Building a cybersecurity program within a business is no longer an option. Cyberattacks last year struck fear into all industries with breaches of Sony Entertainment, Home Depot and healthcare organizations.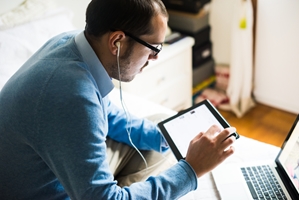 Technology and electronic record-keeping have both become prominent in all kinds of enterprises, which means that no one is safe.
The responsibility is on entrepreneurs to use their resources to create a cybersecurity program, whether that means hiring a CIO or using a third-party company.
Here are five tips for companies looking to improve or implement a cybersecurity program:
Define cybersecurity
Dark Reading highlighted the fact that many organizations mix up terms, believing that information security and cybersecurity are the same thing. Information security protects systems regardless of their state, meaning that a filing cabinet can be considered an information security system. Cybersecurity regards digital security and information. When employees and supervisors know the difference, it may make it easier to demonstrate and apply a cybersecurity plan.

Train employees right 
There are a variety of ways to prepare employees for proper security techniques. The Federal Communications Commission recommended requiring strong and complex passwords, establishing Internet etiquette guidelines and penalties for when they're not followed. Further options for guiding employees include Microsoft certification courses and SQL training, which can also improve returns on investments and streamlined business processes.
Establish a foundation
Dark Reading suggested to lay a groundwork that can be followed from the very beginning. There are industry frameworks organizations can follow, including the national Institute of Standards and Technology Cybersecurity Framework, which the source highly recommended. Dark Reading said that many functions and guidelines won't translate well into many businesses, so the framework may be adjusted and customized to tailor the enterprise it's being used for.
Have a budget
Cybersecurity can be a costly investment, but making a breakdown of the program can help executives realize what needs to be in place. Objectives should be broken into categories, and Dark Reading recommended including "security operations" and "malware protection." The lowest category should be "Web application protection" or "ID provisioning," which can include the guidelines mentioned earlier.
Keep it together
Having a plan in place isn't enough to protect data. The IT department needs to continue to update it regularly to suit the changing technological and corporate environments. A cybersecurity plan put into place five years ago will not be as effective now, and that will still be the case in the future.
Learn more about our Cyber Security training…