Data virtualization has become the next big business trend. It has proved its usefulness by giving companies the ability to reduce time spent making decisions and developing products and/or applications.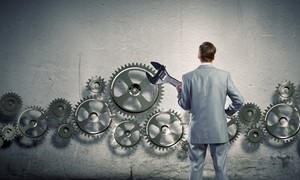 IT professionals may become trained in data virtualization to serve businesses and improve corporate processes by using programs influenced by the concept. Microsoft certification courses are one option for IT workers looking to become experts in Microsoft Dynamics CRM, which uses data analytics. However, there is a variety of software available for companies.
What is data virtualization?
Several trends have developed due to the popularity of data virtualization. Some of them include business agility and the ability to use insights based on collected data assets. An example of improved decision-making was pointed out by ITBusinessEdge – if a car vendor wanted to predict what parts might need to be changed and when, it can access data from maintenance records to do so.

"It's blending that big data, [with] contextual data and then making predictive analytics on when to do preventative maintenance, add-ons to contracts, things like that," Suresh Chandrasekaran, senior vice-president of Donodo, a data virtualization vendor, told ITBusinessEdge.
A data warehouse can store a huge amount of data, and many companies have taken advantage of the tool. However, consolidation can become increasingly difficult while utilizing such a resource. Data virtualization may be a solution.
How to benefit from data virtualization
However, there can be some downsides to data virtualization that companies need to look out for. Search Data Management noted how businesses can go overboard in spending money on the hardware for this function. Sometimes, the hardware is necessary to perfect it, but it can be costly.
But when it's running smoothly, data virtualization can provide many advantages. According to Search Data Management, the best way to use it is to fix and customize projects to suit the data provided through the business's data virtualization program.
Jason Hull, a data integration specialist for Comcast, recommended corporations start small when using data virtualization. They should have a minature project in mind, apply data analytics, then work their way up to bigger scale initiatives.
Data analytics and virtualization have become new characteristics of successful businesses. No enterprise is too small to begin integrating data as a feature to improve its processes.