In nearly every business segment, professionals seek to employ best practices to improve a company's overall functionality.
In the multidimensional world of information technology, finding the optimal way of implementing a new solution is critical.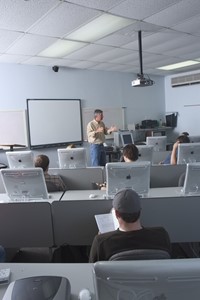 Between cybersecurity breaches and the need for consistent data center uptime, organizations need staff members with comprehensive knowledge of industry standards. Ensuring all software and hardware deployments are configured properly is a must for any enterprise, but how can IT professionals satisfy this need?
For many businesses, enrolling personnel in an ITIL certification course is the optimal answer.
ITIL: A history 
According to IT News, the IT Infrastructure Library was originally known as the Government IT Infrastructure Management Method. Developed by the U.K.'s Central Computer and Telecommunications Agency, ITIL was inspired by a checklist supplied to CTTA by IBM.
What is it? ITIL basically outlines what processes an organization should conduct to best enact cybersecurity protocols, monitor software licenses and handle support calls among a long list of other responsibilities. The library has been expanded and edited over the past three decades, and is now ubiquitous throughout the the IT industry.
Outlining projects 
Whether an enterprise plans on launching a new e-commerce Web page or install company-wide document management software, ITIL details which steps an organization should take to avoid failure or missteps.
Many critics of the program, such as networking consultant Greg Ferro, maintain ITIL should be regarded as a set of flexible guidelines that can be redesigned to reflect the practices exercised by today's enterprises. Revising ITIL's standards and knowing when to take them with a grain of salt is essential. That's a mindset those with training in the library will recognize.
"The fundamental ITIL premise is that technology work can be segmented like machines or work functions in a factory where each task can be assigned to a machine with fixed human resources applied to the task and funding applied to the machine," said Ferro, as quoted by IT News.
Reducing errors 
As CIO noted, if a set process isn't in place to provide professionals with a step-by-step outline of how to orchestrate a complex project, things can go drastically wrong. Jury-rigging is a skill that involves making a quick fix to a vexing situation, but it isn't necessarily the "right" way to do something. However, just because a situation is mitigated by an IT guru, doesn't mean it's resolved.
That's the benefit of using ITIL, it's a comprehensive formula designed by a collection of experts representing different segments of the industry. The rock stars of IT are prone to making grievous mistakes because they may be unfamiliar with a seemingly minute part of the job.
"No matter how great one person is at a job, he or she can't know everything," the source asserted.
Not to mention, a guru from one company may be able to make his or her own contributions to the library. It's not a rigidly defined reference. Inflexibility isn't conducive to adopting the innovations of the IT industry, which is prone to changing on a yearly basis.
Getting certified 
As ITIL isn't a tool, people often wonder how obtaining a certification in the library can be done. For those unfamiliar with the process, CIO contributor Rich Hein outlined the five levels of the ITIL Qualification Scheme:
ITIL Foundation: A two-credit course ending with a test comprised of 40 multiple choice questions. Dives into key concepts and elements, as well as defines common ITIL terminology.
ITIL Intermediate Level: A 15- or 16-credit program available to candidates who have already based the Foundation exam. The course outlines service lifecycle (strategy, design, transition, operation and improvement) and capability (security, enhancement, release and control, operational support and analysis and service offerings).
ITIL Managing Across the Lifecycle (MALC): A five-credit offering that is a culmination of the previous two courses. It's an exam that foreshadows future exams.
ITIL Expert Level: In order to enroll, students must have passed the MALC, Intermediate and Foundations exam for a total of 22 credits.
ITIL Master Qualification: The last and highest accreditation a professional can achieve. This exam tests pupils with situation-based questions, obligating them to explain and justify their reasons for implementing a particular solution. It also requires them to detail IT support management techniques and the best methods to abide by.
Additional qualifications 
Although the ITIL Master accreditation challenges a person's comprehensive understanding of ITIL concepts, many institutions also offer several specialty programs, such as:
Problem Analyst: A title assigned to those who have taken an ITIL-focused course outlining how to prevent issues from occurring.
Lean IT: This program teaches professionals how to eliminate waste from common IT assets and processes, as well as applying flexibility.
Certified Process Design Engineer: A certification that details assessing, designing and integrating IT Service Management actions.
These are just three out of a long list of specific certifications IT staff can obtain. Depending on the needs of their employers, personnel can learn best practices applicable to different segments of IT.
[sws_grey_box box_size="100%"]Learn more about our ITIL course offering here or choose one of the ITIL courses below [/sws_grey_box]
[course_table filter_keywords="ITIL" hide_columns="2,3,4,5,6″ accordion_title="ITIL Training Courses"]